Brian & Laura Justice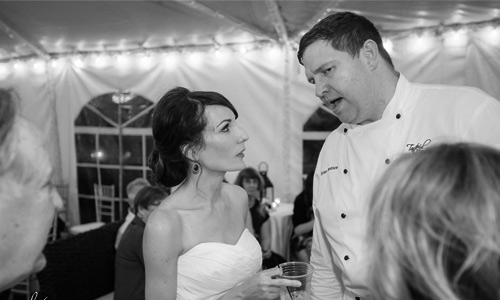 Brian Justice is a Georgia local with twenty years of culinary experience. Accepted into the Culinary Apprenticeship Program at The Cloister on Sea Island in 1992, Brian stayed for seven years and helped open Ocean Forest and the remodeled Beach Club. After meeting Chef Mattias Radits, the Executive Chef at The Breakers, Brian was impressed with the variety of exotic ingredients and preparations and moved to Palm Beach, Florida. In his four years at The Breakers, Brian worked in the Banquet Kitchen and in nine of the restaurants, including L'Escalier under Chef Matthew Sobon. While there, he was promoted to the position of Off-Premise Banquet Chef under the direction of Jeff Simms. In 2002, Brian took a position at the Addison in Boca Raton, Florida as the Banquet Chef. A year later, Brian returned home to Georgia and The Cloister to work at The Lodge at Sea Island with Executive Chef Todd Rogers.

Laura Justice is a graduate of Johnson and Wales University.  Her early culinary resume includes two years working as a caterer with Taste Unlimited and one year baking with Incredible Edibles, both based in Virginia Beach, Virginia.  Laura completed her culinary externship at The Breakers in Palm Beach, Florida and was asked to stay after her graduation.  During these three years, Laura worked in the Banquet Kitchen and nine of the restaurants and was promoted to Chef Brigade. It was also at The Breakers in Palm Beach that Laura and Brian met and fell in love.  In 2003, Laura moved to St. Simons Island with Brian to work at The Lodge at Sea Island as a Chef de Partie.  They were married in April, 2007 and are excited to share their culinary expertise with you.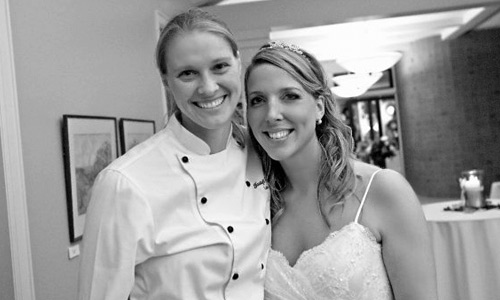 Awards
Elegant Island Living Best Caterer for 2015
Amity House, Hope House: People's Choice Runner-Up
Taste of Glynn, Hope House: Best Caterer Tablescape
2nd Annual Golden Onion Professional Cooking Competition: 2nd Place 2013
Taste of Glynn 10th Anniversary Celebration: Best Dessert Runner –Up
Taste of Glynn 10th Anniversary Celebration: Best Appetizer Runner-Up
Taste of Glynn, Amity House – Hope House – Outreach: 2012 Best Seafood
Taste of Glynn, Amity House – Hope House – Outreach: Best Appetizer Runner-Up
Taste of Glynn, Amity House – Hope House – Outreach: 2012 Best Seafood
Taste of Glynn, Amity House – Hope House – Outreach: 2013 Health Conscious People's Choice 1st Place
Taste of Glynn 10th Anniversary Celebration: People's Choice
Taste of Glynn, Amity House – Hope House – Outreach: International People Choice 1st Place
Taste of Glynn, Amity House – Hope House – Outreach: 2012 Best Dessert Core
Taste of Glynn, Amity House – Hope House – Outreach: 2012 Best Gourmet Runner-Up
Taste of Glynn, Amity House – Hope House – Outreach: 2012 People's Choice
Taste of Glynn, Amity House – Hope House – Outreach: 2012 Celebrity Chef's Choice (Celebrity Chef Holly Chute)
Taste of Glynn, Amity House – Hope House – Outreach: Desserts First Place
Taste of Glynn, Amity House – Hope House – Outreach: 2013 Locally Inspires People's Choice 1st Place
Taste of Glynn, Amity House – Hope House – Outreach: 2013 Best Desserts People's Choice 1st Place
2012 Shrimp & Grits The Wild Georgia Shrimp Festival: Professional Consumer Choice Award
Taste of Glynn, Amity House – Hope House – Outreach: 2012 Best Appetizer
Taste of Glynn, Amity House – Hope House – Outreach: 2009 Best International Runner-Up
2011 Shrimp & Grits The Wild Georgia Shrimp Festival: 3rd Place
2009 Shrimp & Grits The Wild Georgia Shrimp Festival: 3rd Place
2008 Shrimp & Grits The Wild Georgia Shrimp Festival: 3rd Place
2009 Shrimp & Grits The Wild Georgia Shrimp Festival: Consumer Choice Winner
2010 Shrimp & Grits The Wild Georgia Shrimp Festival: 2nd Place
2008 Shrimp & Grits The Wild Georgia Shrimp Festival: Consumer Choice Winner
Taste of Glynn, Amity House – Hope House – Outreach: 2015 Seafood Second Place
Taste of Glynn, Amity House – Hope House – Outreach: 2015 Desserts First Place
Taste of Glynn, Amity House – Hope House – Outreach: 2015 People's Choice First Place
Confrerie de la Chaire des Rozisseurs Certificate, May 15, 1998